Your Brand New Custom Built Kitchen in Bend, Oregon
The kitchen is the most used room of a home, so it stands to reason that finding ways to make it more engaging and inviting helps boost the experience for everyone. But how do you do it? 
In this article, we provide the latest kitchen design trends that help improve your family's experience in this ultra-popular area of the home. If any of these solutions sound appealing and you want to incorporate them into your new Arbor Builders home, our design experts are here to help.
Now let's get cooking!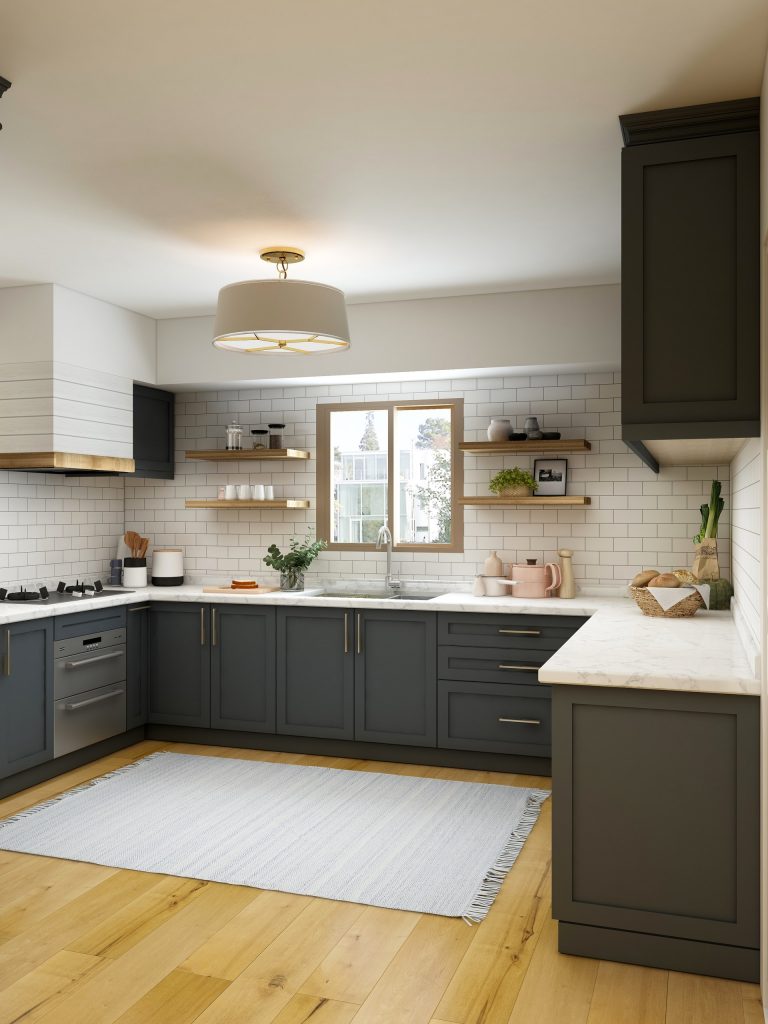 Strong Color Contrast
The last few years have shown increased interest in color contrasts, and the differences are more pronounced each year. Now is an ideal time for those who love to express themselves with color.
Do a backsplash in one color, cabinetry in another, and countertops in a third. Whatever colors you love most, you can find a complement using a color wheel and build as many compliments as you like. There seemingly is no end to how much your kitchen colors can pop.
Marble Galore
Marble has always been a key design element of a kitchen thanks to its enduring strength and beauty, but now it is in even more demand – and the more pronounced the veins, the better. Today's trend often includes covering three sides of a kitchen entirely in marble, resembling a large block of stone. You can go even further by matching the backsplash. The overall look is visually appealing while keeping the kitchen elegant and clean.
Large quantities of marble can increase your budget, but you can opt for cheaper alternatives that still offer an appealing, veined look. Marble and competing materials are also worth the investment because they are a top attraction for new home buyers. You can extend this same rich effect into bathrooms for added resale benefits.
Unique Tile
This year's trend has shifted toward bolder colors and more unique tile designs in styles ranging from traditional to modern. Tile is also coming in glossier sheens. These traits let you distinguish your backsplash for added visual appeal, making the area sparkle in deep, highly engaging colors or through softer neutral tones that add inviting light and reflection thanks to the glossy material.
A Mix of Old and New
Contrasts are a powerful way to distinguish elements of a room and even show them off. It also allows members of a family who like different design styles to find a middle ground. You can have a fully modern kitchen with antiqued, country, or vintage accents mixed in, or reverse it with traditional or farmhouse cabinetry with furniture in modern colors and styles. The mix of styles helps you bring a clean look to your home without sacrificing warmth.
Some blends work better than others, so it's a good idea to find items with a similar story or underlying style, so they don't conflict. A design consultant can help you make the most of this design style. Our onboard design consultants at Arbor Builders can help you create the right look.
More Privacy
Open floorplans have been popular for decades, but a new idea is taking hold. It's called "broken-plan living." In this trend, the emphasis is put on separating spaces without sacrificing a home's flow. Many designers see this trend being a long-term answer to floorplans, allowing for more intimate spaces while still drawing people in.
A good example of this idea is using glass partitions between the kitchen and adjacent spaces. You can leave the doors open while still creating a feeling of separation or close the doors and keep your kitchen friendly and inviting by flooding the kitchen with natural light. You can also reduce kitchen noise and odors in surrounding spaces.
Partitions are just one way to create that separation. You can also reduce the entrance space into the kitchen without using doors while still allowing for easy access to and from the room. You can also use strategically placed furniture, cabinetry, and house plants to create a feeling of separation to make each room feel unique.
Bring On the Metal
Like other contrasting elements, metal is another way to bring beauty and intrigue to a kitchen while also bringing out the beauty of surrounding cabinetry and furniture. A classic example is stainless steel appliances, faucets, and cabinet handles and pulls, but you can also use metal to create engaging backsplashes and hoods. Popular tones range from a classic, natural grey to vibrant gold or muted oil-rubbed bronze. 
Change Up the Lighting
Like contrasting cabinetry and furniture, blending different lighting styles brings more appreciation to your kitchen. Choose one lighting style over the kitchen island and a second over the dining area. Doing this adds another plane within the room worth admiring and appreciating. It also creates a visual separation in open floor plans for added intimacy.
The challenge lies in finding complementary styles. Our design consultants can help you find a lighting recipe that is just right.
Less Cabinets and More Open Shelving
Many homeowners find that exposed crockery adds warmth and friendliness, and you may feel the same. Today there is more emphasis on open shelving that helps you maintain that warmer feel. Fewer cabinets also help lower your kitchen budget Plus, you have an opportunity to show off your creative plates, bowls, and cups. You can even make your kitchen appear more curated by displaying paintings or objects d' art.
Another way to add a more casual look through less cabinetry is to use a sink skirt: a pleated skirt resembling drapery that runs underneath your sink. This trend has recently seen a bump in popularity thanks to its warm, old-world feel while reducing kitchen budgets. Its relatively low cost makes it easy to switch out the drapery designs when the desire hits.
Kitchens that Appear to Disappear
A kitchen offers boundless opportunities in both function and design. While some homeowners love the look and feel of traditional kitchens, some prefer a subtle design or prefer the kitchen to disappear entirely. If you like this style, you can opt for a kitchen design that works more like an extension of the home's architecture, making the living room feel bigger.
If you don't like the look of refrigerators and freezers, the last few years have shown more emphasis on hiding these appliances behind cabinet doors, resembling other cabinetry in your kitchen. You can do them in colors to match your cabinetry or in complimentary tones that add a spot of color. Additionally, many appliance makers are redesigning their products for easier access, in turn making them look even more like cabinetry. Your back will thank you. 
A Return to Wood Grain
Previous years have shown a shift away from wood grain, but this trend is reversing, letting you create a warm feel in even the most modern kitchen.
As part of this trend, there has been a shift toward darker woods such as walnut, letting you enjoy mid-century modern design inside your kitchen. Think of this like an Eames Chair but as a kitchen, with dark, rich wood contrasting with bright whites, dark blacks, or softer colors. You still get the beauty of wood as in more traditional homes but in a cleaner style.
Arbor Builders is Here to Help
A kitchen is a magnet, drawing in family and friends and creating an ideal place to socialize. Making this room one you and your family love helps you make the most of the time there.
We at Arbor offer semi-custom and fully custom home models, allowing you to adopt any of the above trends to achieve the kitchen of your dreams. Our experts in design and construction want you to be happy in the place you call home and want you to live in your home your way. This is why we let you be involved in your home construction to whatever degree you like. If you prefer to leave it to the experts, we know how to create an appealing kitchen that gives you top dollar when you decide to sell.
To tour our home our turnkey homes and learn more about our semi-custom and custom capabilities, contact us here.